Indore Metro Rail Project: Resumption of work and all other updates
Posted Date: July 01, 2021, 18:13 IST | Posted By : DCNPL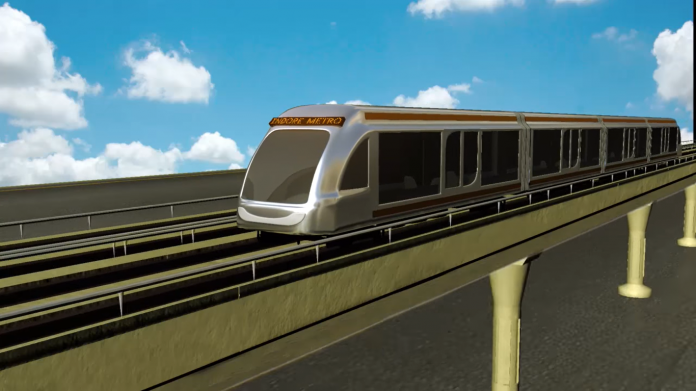 INDORE (Metro Rail News): Indore Metro Rail Project which was facing stagnation for months due to multiple reasons including the Covid-19 pandemic is finally moving on track as work will resume on the project and will be carried out at rapid pace from now on.
Recently, a meeting was conducted to review the Indore Metro project which was chaired by Indore Divisional Commissioner Dr. Pawan Kumar Sharma who said that work on the metro projects in the city has lagged behind due to Covid-19 and other reasons but now work on this need to be accelerated. In the meeting, Collector Manish Singh, Executive Director of Indore Metro Rail Project Gautam Singh, CEO of IDA Vivek Shrotriya were also present.
The Commissioner instructed the officers of Indore Metro Rail Project to update and inform about the progress on the metro project every 15 days to the Indore Collector. All other obstacles including land acquisition will be removed with cooperation from the Collector. He also said that every station of the metro train should have proper facilities for the movement of passengers without any obstructions.
The Commissioner also advocated better connectivity of the metro stations with the airport and railway station so that passengers can catch the metro train without any hindrance. Outside every metro station, there should be an efficient system for the entry and exit of bus and other vehicles. He also praised Delhi Metro project as a model for mass transit system in the country and wants Indore Metro to follow the same path of Delhi metro in terms of work execution and planning.
Collector Manish Singh expressed displeasure over the irregular way of working of Metro Rail office in Indore and instructed the officials to open the office on a regular basis. He also advocated constitution of a dedicated team for the metro project which should remain in constant touch with the district administration.
During the meeting, Additional Director (Technical) of Indore Metro Rail Project, Shobhit Tandon said that the process of floating tenders in five packages has been completed. Soon the company will be given the operational right so that construction work begins as early as possible.
Phase-1 of Indore Metro comprises construction of 33.53 km long corridor as Line-3 (Yellow Line) which will form a ring around the city connecting Palasia – Railway Station – Rajwada – Airport – Bhawarsala through 29 stations. The corridor will have 6 underground stations from Kothari market to Airport and all other 23 stations will be elevated.
These stations are Bhawarsala Square, MR 10 Road, ISBT / MR 10 Flyover, Chandragupta Square, Hira Nagar, Bapat Square, Meghdoot Garden, Vijay Nagar Square, Radisson Square, Mumtaj Bag Colony, Bengali Square, Patrakar Colony, Palasia Square, High Court, Indore Railway Station, Rajwada Palace, Maulana Azad Marg, Bada Ganpati, Ramchandra Nagar Square, Kalani Nagar, BSF, Airport, Gandhi Nagar, Super Corridor 6, Super Corridor 5, Super Corridor 4, Super Corridor 3, Super Corridor 2 and Super Corridor 1.
Indore Metro trains will have six coaches each with each train to have capacity of 1950 passengers. Metro Stations will have Automatic Fare Collection system along with advanced escalators.
In February 2019, civil construction work was started on Line-3 for an elevated viaduct of length 5.29 km from ISBT/MR10 to Mumtaj Bagh Colony. However, construction activities later start facing issues and delays due to disputes between General Consultant and the Contractor Dilip Buildcon. The metro project also got affected due to Covid-19 and the resultant lockdowns in the city.
At present, efforts are being made to resolve disputes between the GC and the Contractor at the administrative level and hope that it get resolved at the earliest so that construction activities again speed up for the project.
In February this year, Madhya Pradesh Metro Rail Corporation Limited (MPMRCL) floated tenders for the construction of seven elevated stations between ISBT/MR10 Flyover and Radisson Square for Line-3 of Indore Metro. However, bid submission end date has been extended twice for this tender due to the Covid-19 second wave and now extended to 1st July 2021.
Recently, MPMRCL in March also floated tenders for the construction of elevated viaduct and 9 elevated metro stations for the same line from MR10 Road Station to Gandhi Nagar Station (10.9 km). However, here also bid submission end date extended to 1st July 2021 due to Covid-19 second wave.
Indore metro has set a deadline of 2023 to start operation which at present looks unlikely. Hope that construction activities for the project get accelerated along with inviting of tenders and awarding of contracts for Line-3 so that this line becomes operational as early as possible.