Indore: Prices rise by 20% along Super Corridor.
Posted Date: 15 May 2014 | Posted By : DCNPL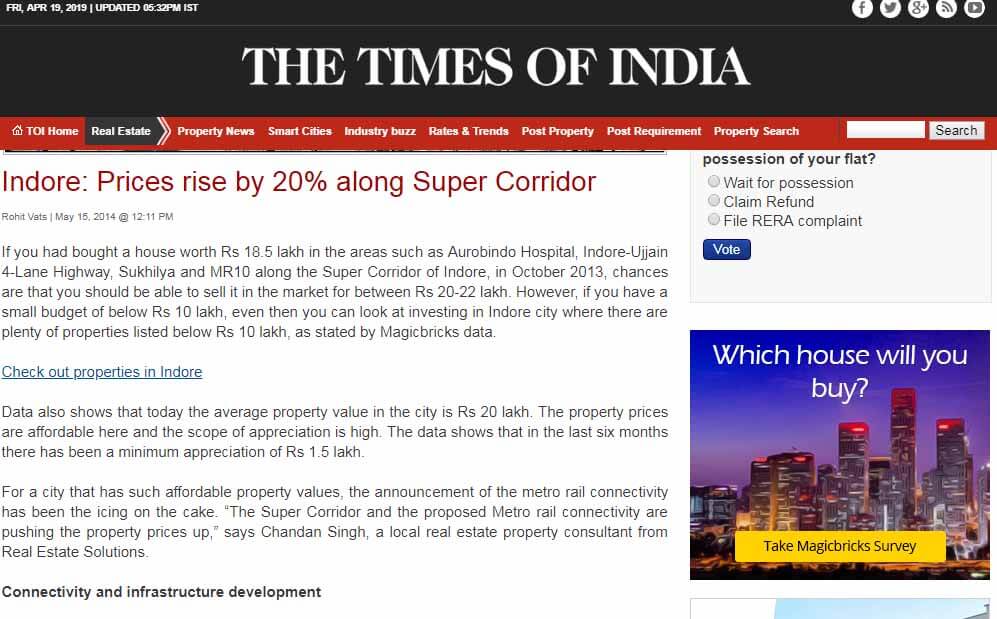 If you had bought a house worth Rs 18.5 lakh in the areas such as Aurobindo Hospital, Indore-Ujjain 4-Lane Highway, Sukhilya and MR10 along the Super Corridor of Indore, in October 2013, chances are that you should be able to sell it in the market for between Rs 20-22 lakh. However, if you have a small budget of below Rs 10 lakh, even then you can look at investing in Indore city where there are plenty of properties listed below Rs 10 lakh, as stated by Magicbricks data.
Connectivity and infrastructure development
The city's connectivity is its trump card. It is well connected with Mumbai, Delhi, Pune and Bangalore with direct flights and effective road and rail networks. Says Neelesh Jain, director, DCNPL Pvt Ltd, a city-based developer, "The city's location is the major factor that can push development here and enables the city to grow fast. It is almost equidistant from both Mumbai and Delhi. Strong connectivity with these metro cities gives Indore many additional advantages," says he adds.
The Agra-Mumbai National Highway 3, NH 59 & SH27 are rated amongst the best roads in the country and have considerably reduced travel time. Besides many existing mid size IT companies, major companies like Tata Consultancy Services (TCS) & Infosys has also started construction on their premises in the city.
Educational institutions like Symbiosis and Narsee Monji Institute of Management Studies have started constructing their set ups along the Super Corridor. Among other proposals, there are the mono rail and tramway projects.
Social and civic Infrastructure
Neelesh Jain, director, DCNPL Pvt Ltd says, "Indore ranks well amongst most of the mentioned factors for evaluation. With the major ongoing, in process and proposed infrastructure projects in the city, the water and electricity supply in the city has improved greatly in past & is going to improve further in time to come".
Investor's entry
Investor's interest in Madhya Pradesh is quite high and Indore's biggest advantage is its connectivity to all major metro's Mumbai, Delhi etc. Jain says that Indore's rapid growth as an information technology hub has further made it one of the fastest rising real estate hotspots in India. So what is the scope of appreciation? "There are projects such as medical hub which are in advance stage of construction; few educational institutes are to come up, also ISBT in MR10 area is also likely to start construction soon. All this might take a year to fly. Moreover there are elections results awaited. Once it gets over, real estate values in Indore, especially in areas along Super Corridor are expected to immediate appreciation of 20 per cent." So if you are someone who has a small budget and aims for good return on investment, Indore is a locality that cialis pas chercan be your choice.
http://content.magicbricks.com/industry-news/other-cities/indore-one-year-property-values-rise-by-20/68545.html